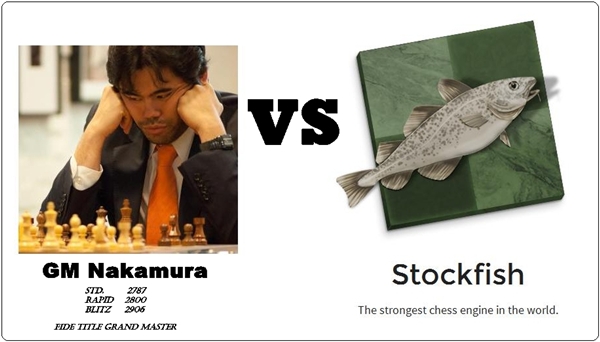 NAKAMURA AGAINST stockfish
"Playing like a machine" has become a popular term these days in the world of chess (if no charges!). This weekend, a top grandmaster will prove the literal meaning of this term.
Dated August 23, 2014 tomorrow, GM Hikaru Nakamura's rank 5 will play the four parties against Stockfish, enjin most powerful chess today. Too heavy for Nakamura? Do not worry, she will get help from enjin weaker chess and computers may use the older version.
This match will be held in San Francisco, California in the Bay Area. This event will also be broadcast live on the host
Code:

Chess.com/TV
IM Danny Rensch. The story can be followed on Facebook:
Code:

https://www.facebook.com/events/312975918877354/?ref=ts&fref=ts
Nakamura allowed to "cooperate" with the older version of Rybka (rating 3050) against the latest version of Stockfish (rating 3290), which won last May TCEC (Thorsen Chess Engines Competition) season 6.
Nakamura and Stockfish will be given the same time each 45 minutes with an additional 30 seconds per move and wear Stockfish were denied access opening book.
"It is pure entertainment and curiosity," says Tyson Mao, organizers of the contest along with Jesse Levinson. Tyson said, one of the main goals of this game is to see how far the development of the computing power in the last six years.
The first and the second party will face Nakamura assisted engine Rybka against Stockfish. The third and fourth parties without help engine Nakamura playing chess with holding the white pieces and pawns are given Stockfish poor one may be drawn at random.
"I'm not too optimistic about the chances of GM Nakamura," Mao said. "When I tell people about this, they do not believe me. Everybody believes that humans still have a chance to win against the machine."
It is interesting to know the results.
Source: FM Mike Klein Chess.com



Posts

: 555


Points

: 1082


Reputation

: 179


Join date

: 2012-10-05


Age

: 21


Location

: Indonesian



Well ok if i play this position ofcourse i will play with positional stile and my first move will be,, b4!!>>> very aggressive human move, whats is the plan? So white will  exchange the pawns and then the ,,C,, line is open for attack. and so all top engines say,"that here is best move f4!? or maybe Rybka and Naka lol = Rybka Mura>> Rd1!? or maybe h4!? stupid engine moves ,.Rd1??...f4..or h4,,>>> they are stupid machines moves,,,,,,,, But here is  best b4!! only this  is human move!........I am absolutely convinced ,that then, white,will  make at least, draw,,or if we are lucky and can win. But against stockfish hardly?......... Will look at the position what will be happened after b4!!  ofcourse against,Stockfish5 1 ,b4!!-c:b4...2,c:b4-R:c2,,, 3,R:c2-B:b4,,,4 Bc5!-K f6!!,,,5 B:b4-a:b4,,,and  after R c4! i will make a draw so easy
predator78 wrote:Well ok if i play this position ofcourse i will play with positional stile and my first move will be,, b4!!>>> very aggressive human move, whats is the plan? So white will exchange the pawns and then the ,,C,, line is open for attack. and so all top engines say,"that here is best move f4!? or maybe Rybka and Naka lol = Rybka Mura>> Rd1!? or maybe h4!? stupid engine moves ,.Rd1??...f4..or h4,,>>> they are stupid machines moves,,,,,,,, But here is best b4!! only this is human move!........I am absolutely convinced ,that then, white,will make at least, draw,,or if we are lucky and can win. But against stockfish hardly?......... Will look at the position what will be happened after b4!! ofcourse against,Stockfish5 1 ,b4!!-c:b4...2,c:b4-R:c2,,, 3,R:c2-B:b4,,,4 Bc5!-K f6!!,,,5 B:b4-a:b4,,,and after R c4! i will make a draw so easy
very good analysis by the Predator78  

, it makes sense if you are making one of the best opening books for middle and ending




Posts

: 555


Points

: 1082


Reputation

: 179


Join date

: 2012-10-05


Age

: 21


Location

: Indonesian





Similar topics
---
Permissions in this forum:
You
cannot
reply to topics in this forum