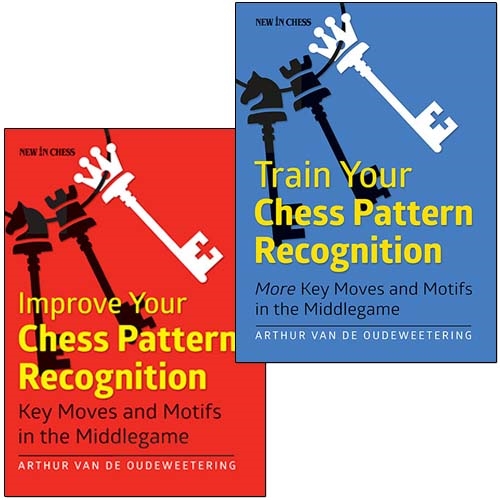 In this sequel to his instant classic, Arthur van de Oudeweetering presents players of almost every level with a fresh supply of easy-to-remember building blocks for their chess knowledge.

Pattern recognition is one of the most important mechanisms of chess improvement. It helps you to quickly grasp the essence of a position on the board and find the most promising continuation.

In short, well-defined and practical chapters, IM Van de Oudeweetering presents hundreds of surprising middlegame themes.

After working with this book, you will find the right move more often and more quickly!

To test your understanding, Van de Oudeweetering provides an abundance of exercises.

Arthur van de Oudeweetering (1966) is an International Master and an experienced chess trainer from the Netherlands.

GM Matthew Sadler, author of 'Chess for Life':
"Gives you the very pleasant feeling of learning new things without spending too much effort!"

IM Frank Zeller, SCHACH Magazine:
"Once you have stored a lot of patterns, finding the best or most interesting move at the board will take less time (..) The (unintentional?) side-effect of the book is: a snapshot of moderns chess at the highest level."

IM Dirk Schuh, Rochade Europa Magazine:
"This book is structured the same way as 'Improve Your Chess Pattern Recognition' and gives just as much joy (..) It is very amusingly written and it will easily improve your chess."

Harry Schaack, KARL Chess Magazine:
"Every ambitious player should at least make sure that he knows all motifs that 'Chess Pattern Recognition' presents."
http://www112.zippyshare.com/v/l7r2ihZS/file.html
http://www112.zippyshare.com/v/tEiB4CxA/file.html



Posts

: 334


Points

: 1070


Reputation

: 342


Join date

: 2012-04-25



My DJVU version (6.6 mb):
https://filesend.co/train_your_chess..._move_(2).djvu
Zippy mirror:
http://www17.zippyshare.com/v/NbVmBdq8/file.html
My smaller PDF version (9.9 mb instead of 19.9):
https://filesend.co/train_your_chess...compressed.pdf
Zippy mirror:
http://www90.zippyshare.com/v/DyNZZ02F/file.html
My OCR'd and optimized PDF version (19.1 mb):
https://filesend.co/train_your_chess...2).ocr-opt.pdf
Zippy mirror:
http://www64.zippyshare.com/v/QBj8HJYa/file.html
Thanks to arash3626!

https://filesend.co/f/arthur-van-de-oudeweetering-improve-your-chess-pattern-recognition_sc.pdf-and-other



Posts

: 334


Points

: 1070


Reputation

: 342


Join date

: 2012-04-25



jiri wrote:

In this sequel to his instant classic, Arthur van de Oudeweetering presents players of almost every level with a fresh supply of easy-to-remember building blocks for their chess knowledge.

Pattern recognition is one of the most important mechanisms of chess improvement. It helps you to quickly grasp the essence of a position on the board and find the most promising continuation.

In short, well-defined and practical chapters, IM Van de Oudeweetering presents hundreds of surprising middlegame themes.

After working with this book, you will find the right move more often and more quickly!

To test your understanding, Van de Oudeweetering provides an abundance of exercises.

Arthur van de Oudeweetering (1966) is an International Master and an experienced chess trainer from the Netherlands.

GM Matthew Sadler, author of 'Chess for Life':
"Gives you the very pleasant feeling of learning new things without spending too much effort!"

IM Frank Zeller, SCHACH Magazine:
"Once you have stored a lot of patterns, finding the best or most interesting move at the board will take less time (..) The (unintentional?) side-effect of the book is: a snapshot of moderns chess at the highest level."

IM Dirk Schuh, Rochade Europa Magazine:
"This book is structured the same way as 'Improve Your Chess Pattern Recognition' and gives just as much joy (..) It is very amusingly written and it will easily improve your chess."

Harry Schaack, KARL Chess Magazine:
"Every ambitious player should at least make sure that he knows all motifs that 'Chess Pattern Recognition' presents."

http://www112.zippyshare.com/v/l7r2ihZS/file.html

http://www112.zippyshare.com/v/tEiB4CxA/file.html



Posts

: 6


Points

: 8


Reputation

: 0


Join date

: 2018-06-25




Similar topics
---
Permissions in this forum:
You
cannot
reply to topics in this forum