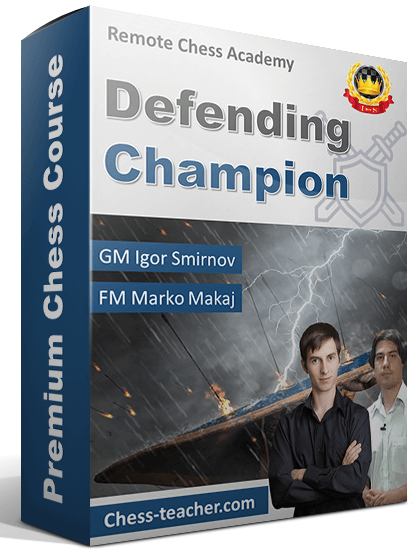 https://www.solidfiles.com/v/dmggmBpQKWwqd
https://www.solidfiles.com/v/vZjjZwZ2r8MzR
https://www.solidfiles.com/v/RqZZ5xw8wQeL7
https://www.solidfiles.com/v/RqZZ5gYgmgwNP
https://www.solidfiles.com/v/nNgg5QXrY8GGr
https://www.solidfiles.com/v/NGZZGzQmM8Mww
Defending Champion – GM Igor Smirnov Pico Version

Defense is a very important chess skill. At least in about 50% of a chess game, we need to defend. In some games, we play with Black pieces and White makes the first move, and for that reason, White has the opportunity to start the attack/initiative.
In some other occasions, one will make a mistake and he or she is forced to defend. Thus, defense is as important as attack.
Many players struggle to get out of hard positions, and crumble under pressure. If you carefully study the course, then you will be able to defend correctly against all level of players

Is this course right for me?

The course is suitable for beginners and intermediate level players, but it will be helpful for advanced level players, too. Even if your ELO is 1900+, this course will help you improve your defending skills and you'll learn some new things.

If you want to strengthen your defending skills and stop losing games under pressure, then this course is for you.

Many of your questions will be answered
How to think and defend your positions in the opening?
How to create a solid repertoire against an attacking player?
When to defend and when to ignore opponent's attack/idea?
Do you always have something 'better' not to resign?
How to stop losing initiative/material?
How to make counter-attack (instead of just defense)?

Defend the right way

White has an advantage of moving first, thus Black needs to defend right from the first move.
This course is not about the openings but it will teach you how to think and defend your positions in the opening.
Learn different approaches for playing opening stage properly.

Break unfavourable course of the play

With the accumulation of practical experience, we will learn to determine the measure of the acceptable risk, which indecently strongly depends on the initial position.
On the end, it is also very important to tell you something about the mindset in the hard situations.

Eliminate 90% of your errors

Yes, it is possible to eliminate 90% of your errors. In this course GM Igor Smirnov will show you exactly how you can do it.
Learn about the very common psychological problems of the chess players due to that, players make terrible mistakes that costs them a lot of games.

Outline

Video Lectures
Lesson-1: Introduction
Author explains why defense is important.
Lesson-2: How to defend in the opening?
Learn different approaches for playing opening stage properly
Lesson-3: Other approaches
In this lesson, FM Marko explains about the indirect approach to opening defense
Lesson-4: Stop losing material
Learn how to defend without losing pieces or material
Lesson-5: How to evaluate position?
Learn importance of evaluation in chess and how to evaluate positions.
Lesson-6: Simplification in chess
Learn how to avoid further damage to your pieces with Simplification
Lesson-7: Economic defense
In this lesson, you will learn how to use the resources in defense very economically.
Lesson-8: Consolidation
Learn how to consolidate and save lost position.
Lesson-9: Active Defense and Counterattack
Lesson-10: Fortress
The fortress is a very common thing that people tend to consider chess with. Learn how to build a fortress in your games.
Lesson-11: Psychology of defense
Using many examples GM Igor Smirnov will show you how to break unfavorable course of the play
Lesson-12: Deal with Gambits
Gambits are usually used by an aggressive player so you should try not to take those gambits. In this chapter, GM Smirnov show how to deal with such gambits.
Lesson-13: 3 main methods
In this lesson, we will analyse the 3 most important methods of defense.
Lesson-14: Eliminate errors
Yes, it is possible to eliminate 90% of your errors. In this course GM Igor Smirnov will show you exactly how you can do it.
Lesson-15: Your practical guide
In this lesson, GM Smirnov explains the practical way of thinking.
Practical guide for action
It is necessary to put the received knowledge into practice. There are 9 practical tasks (over 100 games) in this course which will help you to understand and remember the ideas of the course better.
The training program has a detailed explanation on what and exactly how you should do the practical tasks.



Download Links:
Choose from 12 different mirrors!
Total Packed archive size: 162 MB
Unpacked extracted size: 208 MB

Link: http://mir.cr/M4DTQN4V
MD4: 511a6bfd35558f4432da64137bdb2e39
MD5: 2c8832839134f351d894cde568bb7b3d
SHA-1: 00b5f200505ccf23924ada499a1ecb29c93d10cf



Password: May I Be Cursed To Lose Every Chess Game if I Dont +1 The Uploader!
When you copy+paste the password, make sure that there are NO "spaces" at the beginning or end of the password. The Password starts from M and ends on ! and has spaces in between words!



About Pico Version:
I've compressed the files but have kept the same video resolution and the audio is stereo. The quality is pretty acceptable IMO.

I've also included ALL the contents from the CD, the eBook, the practical PGN and even the autorun works. So if you wish to use the softwares and the GUIs, they too are ALL working!



Posts

: 207


Points

: 468


Reputation

: 61


Join date

: 2012-04-25



Can you repost new links, please?

Thank you!



Posts

: 2


Points

: 2


Reputation

: 0


Join date

: 2017-08-13



kabire00 wrote:Can you repost new links, please?

Thank you

7200 downloads
No mirrors,
You deserve nothing
Bye



Posts

: 207


Points

: 468


Reputation

: 61


Join date

: 2012-04-25



please please please please please please please please please

Can you repost new links, please

Similar topics
---
Permissions in this forum:
You
cannot
reply to topics in this forum