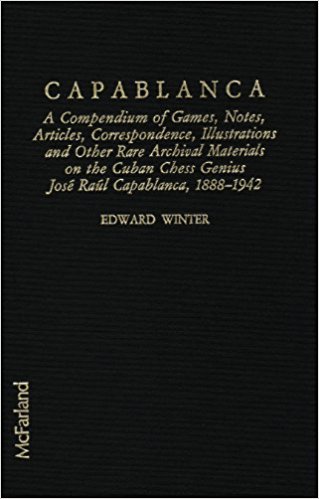 Capablanca - A Compendium of Games, Notes, [...] - Edward Winter - McFarland - 1989 - OCR (pdf, 18mb)
http://www92.zippyshare.com/v/E6h0lniA/file.html
All credit to the scanner and schoenfranz@gmx.net

Edward Winter: Capablanca (signed)

A Compendium of Games, Notes, Articles, Correspondence, Illustrations and Other Rare Archival Materials on the Cuban Chess Genius José Raúl Capablanca, 1888–1942. Signed and dedicated by Edward Winter.

165 games, 26 glossy plates, diagrams, appendices, notes, bibliography, indexes. 349pp. Library binding, McFarland 1989.

About the Book

This compendium provides an enormous amount of documentary data, usefully organized, much of it unseen since original (and often obscure) publication. Writings are by and about Capablanca; the minute details of his life and games proceed chronologically; the controversies of his career are especially well documented. The book has a games and positions index, an index of openings, a general index, and 26 rare photographs on glossy plates.

About the Author(s)

Edward Winter is an author, journalist, archivist and "the world's most renowned chess historian" (in the words of Grandmaster Yasser Seirawan). He began Chess Notes in 1982.

Award Winner Book of the Year--British Chess Federation

This book is basically a biography via the subject's own writings and papers. Winter does, in fact, include plenty of his own (excellent) prose, but the meat of the book is Capablanca's own writing, much of it new to me, and I've read quite a bit on Capa through the years.

Especially interesting are Capa's thoughts on contemporary players and his early game annotations when he was writing for various chess magazines early in his career. For example, he annotated every game of the epic Lasker-Schlechter match, and they are all included here.

Although Capa is infamous for writing less than virtually any other World Champion, he still penned quite a number of articles, all of them of interest, and all, or nearly all, of which are collected here.

Winter is known for being a stickler about documentation, so you will not find a lot of unfounded gossip or apochryphal stories or legend here. This is a refreshing dfference from the large majority of chess biographies, including other books on Capa. Capablanca's career is full of enough true mindboggling stories to need to make anything up.

This book is a splendid achievement by Winter, and I had a difficult time putting it down. I plan on going back to it again and again as a reference, and, of course, to play over the games which Capablanca had annotated.

As a big fan of details and facts, Winter is always for me. He`s the best chess historian by far, and this may be his best book to date. Even if you`re not a serious Capablanca fan, this book will keep you entertained with those little special events that make life so interesting (like including a section of an article by Sergei Prokofiev about his playing in a simul against Capbablanca). I also didn`t know until reading the Capablanca writings from articles included in this book that the World Champion really did have a nice sense of humour. Engrossing, filled with facts, all attributions in order... but by no means is it dry. Quite the contrary, this will also touch on your emotions.
Certainly one of the best books I`ve ever seen.

Product details
Paperback: 359 pages
Publisher: McFarland (April 14, 2011)
Language: English
ISBN-10: 0786466340
ISBN-13: 9780786466344

Capablanca_ A Compendium of Games, Notes, [...] (by Edward Winter) [HQ]
https://www.mediafire.com/?rsnd26vacaikwh1

Here is my Capablanca collection, which includes all the books written by him, as mentioned in this thread, and in addition, important books about him (I have not included books which devote only a chapter or a section to Capablanca). The books by Capa himself include:
--Chess Fundamentals
--Primer of Chess
--My Chess Career
--Last Lectures
The other books include
--his WCC matches against Lasker in 1921 and against Alekhine in 1927
--two volumes of his games edited by Varnusz
--one volume of his games, edited by Soloviov
--Lovas, The Chess Greats of the World, the volume on Capablanca
--Lakdawala, Capablanca Move by Move
--Chernev, Capablanca's Best Endings
--Reinfeld, The Immortal Games of Capablanca
--Golombek, Capablanca's Hundred Best Games
And the very important, but not very well known book by Hooper, The Unknown Capablanca.
The old classics are all in descriptive notation, the collections by Varnusz and Soloviev are in algebraic, as are the books by Lovas and Lakdawala.
Speaking of algebraic, I have NOT included the ECO volume called "The Best Endings of Capablanca and Fischer", because only half of it is devoted to Capa...
I do not wish to take part in the endless argument about the identity of the greatest chess player in history, as in addition to Capa, a good case can be made also for Morphy, Alekhine, Fischer and Kasparov (perhaps also for others), but I would like to point to one important fact concerning this issue. Serious contemporary research has established that Capablanca was the most ACCURATE chess player in history, in that his moves resemble the most the moves made by super-strong engines, rated well over 3000 ELO.
Thanks to the original scanners and uploaders, who are too numerous to mention!
Link (14 books, or rather, 13 books in 14 volumes, zipped PDF, 148.6 mb):
https://www.solidfiles.com/v/Vv4qkQYXpngLa

Jose Raul Capablanca - Chess Champion v1.0.0 (Unlocked) 
Google Play:

Mikhail Botvinnik - Chess Champion v1.0.0 (Unlocked) 
Google Play:

Viswanathan Anand - Chess Champion v1.0.0 (Unlocked) 
Google Play:

Vladimir Kramnik - Chess Champion v1.0.0 (Unlocked) 
Google Play:

Garry Kasparov - Chess Champion v1.0.0 (Unlocked) 
Google Play:

Alexander Alekhine - Chess Champion v1.0.0 (Unlocked) 
Google Play:

Emanuel Lasker - Chess Champion v1.0.0 (Unlocked)
Google Play:

In the archive,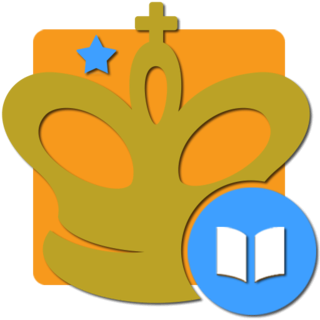 640 commented games played by the 3rd World Champion Jose Raul Capablanca. All the games are deeply annotated. 250 most interesting and instructive positions from his games in an additional program "Play as Capablanca".

This course is in the series Chess King Learn (https://learn.chessking.com/) which is an unprecedented chess teaching method. In the series are included courses in tactics strategy openings middle game and endgame split by levels from beginners to experienced players and even professional players.

With the help of this course you can improve your chess knowledge learn new tactical tricks and combinations and consolidate the acquired knowledge into practice.

The program acts as a coach who gives tasks to solve and helps to solve them if you get stuck. It will give you hints explanations and show you even striking refutation of the mistakes you might make.

The program also contains a theoretical section which explains the methods of the game in a certain stage of the game based on actual examples. The theory is presented in an interactive way which means you can not only read the text of the lessons but also to make moves on the board and work out unclear moves on the board.

Advantages of the program:
♔ High quality examples all double-checked for correctness
♔ You need to enter all key moves required by the teacher
♔ Different levels of complexity of the tasks
♔ Various goals which need to be reached in the problems
♔ The program gives hint if an error is made
♔ For typical mistaken moves the refutation is shown
♔ You can play out any position of the tasks against the computer
♔ Interactive theoretical lessons
♔ Structured table of contents
♔ The program monitors the change in the rating (ELO) of the player during the learning process
♔ Test mode with flexible settings
♔ Possibility to bookmark favorite exercises
♔ The application is adapted to the bigger screen of a tablet
♔ The application does not require an internet connection

The course includes a free part in which you can test the program. Lessons offered in the free version is fully functional. They allow you to test the application in real world conditions before releasing the following topics:
1. Jose Raul Capablanca
1.1. 1901
1.2. 1902-1906
1.3. 1906
1.4. 1909
1.5. 1910
1.6. 1911
1.7. 1912
1.8. 1913
1.9. 1913-1914
1.10. 1914
1.11. 1915
1.12. 1916
1.13. 1918
1.14. 1919
1.15. 1921
1.16. 1922
1.17. 1924
1.18. 1925
1.19. 1926
1.20. 1927
1.21. 1928
1.22. 1929
1.23. 1929-1930
1.24. 1930-1931
1.25. 1931
1.26. 1934-1935
1.27. 1935
1.28. 1936
1.29. 1937
1.30. 1938
1.31. 1939
2. Attack on the king
3. Positional play
3.1. Creating and exploiting weaknesses in the opponent's camp
3.2. Improving one's pieces' positions. Planning
3.3. Fighting for an initiative
3.4. Pawn advance. Opening up the files
3.5. Exploiting bad position of the opponent's pieces
4. Skill of exchange
5. Combinations and tactical blows
6. Playing an endgame
7. Converting an advantage in material and/or position into a win
8. Skill of defense

Download
https://drive.google.com/open?id=0B0pe3JtQv2TvU1pLVFB0aTYwT00



Posts

: 612


Points

: 2948


Reputation

: 1649


Join date

: 2012-04-25



Sir
Alekhine.apk and lasker.apk can not be downloaded.
Kindly upload once again.
God bless you sir.



Posts

: 74


Points

: 86


Reputation

: 8


Join date

: 2014-09-05




---
Permissions in this forum:
You
cannot
reply to topics in this forum