https://chesscourses1.blogspot.com/2018/03/polgar-chess-university-advanced-bundle.html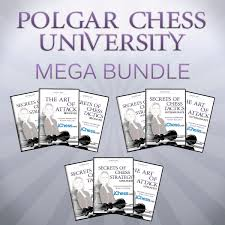 register now : https://www.up-4ever.com/free426802.html
Polgar Chess University Advanced Bundle
Attack, defense and instructive games: GM Susan Polgar, coach of many very strong GMs including top 10 player Wesley So, teaches the advanced player the subtleties of attacking play using the most instructive games of chess legends such as Bobby Fischer and Garry Kasparov.
Positional play and strategy: Susan discusses the more advanced topics of positional chess and strategy. Some of the concepts, such as using open files and weak color complexes, might be familiar which will help as Susan shows how they are used at the elite level.
Chess tactics and endgames: Susan looks at deep sacrificial ideas from Grandmaster games, deconstructing them to reveal how they work and how we can find them in our own games. We see increasingly creative ideas and their inner logic plus familiar sacrifices that require an extra layer of subtlety to distract our opponents. Using the games of Anand, Shirov and Kramnik, we learn how to calculate in complicated positions as well as some advanced tactical patterns we can use in our own games.
The Polgar Chess University Advanced Mega Bundle is an incredible collection of 106 lessons (over 45 hours!) from one of the most famous chess coaches in the world, Susan Polgar. A former child prodigy herself, Susan Polgar now coaches some of the most promising players in the US and has top 10 player Wesley So as a famous former pupil. The first female player to achieve the full Grandmaster title and sister of the strongest woman player of all-time, Judit Polgar, Susan's expertise in chess and coaching is beyond doubt. This Mega Bundle includes all of the training programs Susan has produced in the Advanced tier.
The Polgar Chess Mega Bundle is a complete training program which will give the serious student a very strong all-round game with no holes in their knowledge. The structure of this course together with Susan's lucid explanations of each topic will chess improvers achieve their potential quickly.
Download Links:Download ALL the parts in the SAME location and THEN extract!ALL
Total Packed archive size: 5.74 GB
Unpacked extracted size: 7.21 GB
ü Lesson 1: An instructive game of the late world champion Alekhine (0:25:55)
ü Lesson 2: Space Advantage in Chess through a Capablanca classic (0:29:30)
ü Lesson 3: The concept of Open File and how it can be implemented for a killer attack or for strategical gains. (0:25:51)
ü Lesson 4: The importance of a Rook(s) entering to the 7th (2nd) Rank (0:29:13)
ü Lesson 5: The element of Weak Squares & Outposts, through a tactical and then strategical example (0:23:26)
ü Lesson 6: The amazing power of the Pair of Bishops when they are ideally coordinated. (0:31:22)
ü Lesson 7: Double Pawns. (0:30:02)
ü Lesson 8: The most important Rook and Pawn versus Rook endgames, including the famous Lucena and Philidor positions (0:28:19)
ü Lesson 9: Two very important elements in chess. Protected Passed Pawns and The Wrong corner in King, Bishop, and Rook Pawn versus King endgames (0:28:20)
ü Lesson 10: The Weakened Long Diagonal (0:29:29)
ü Lesson 11: Critical moments from the past (0:26:09)
ü Lesson 12: Simplification Combinations and when to trade (0:28:50)
ü Lesson 13: Bishops and Knights (0:27:26)
ü Lesson 14: Deflection (0:29:07)
ü Lesson 15: Why time is important in chess (0:23:49)
ü Lesson 16: Typical tactical motives, strategical ideas, and plans in the Dutch defense, Stonewall variation (0:25:42)
ü Lesson 17: Attack and defense (0:26:24)
ü Lesson 18: Strategy in closed positions (0:24:38)
ü Lesson 19: King stuck in the Middle - trouble (0:25:12)
ü Lesson 20: Susan examines a classic battle between Petrosian and Smyslov (0:30:05)
ü Lesson 21: Clear up the square (0:28:09)
ü Lesson 22: Importance of passed pawn (0:24:41)
ü Lesson 23: Blockated a passed pawn (dedicated to Pal Benko) (0:30:20)
ü Lesson 24: Bishop sac on h7 (0:29:20)
ü Lesson 25: Create weaknesses in your opponent's game (0:25:07)
ü Lesson 26: Attack and Defense (0:26:35)
ü Lesson 27: Simplify by trading (0:27:53)
ü Lesson 28: Collaboration of a Rook and a Knight (0:24:06)
ü Lesson 29: The Pillsbury attack (0:26:44)
ü Lesson 30: Ideas in endgames (0:24:40)
ü Lesson 31: Critical moments in Bobby Fischer's games (0:22:39)
ü Lesson 32: To trade or not to trade : 2 Bobby Fischer's games (0:23:28)
ü Lesson 33: Middlegames, critical moments (0:24:46)
ü Lesson 34: Middlegames, critical moments 2 (0:24:13)
ü Lesson 35: Play against the KID (0:23:42)
ü Lesson 36: Opening files, Botvinik's game (0:22:49)
ü Lesson 37: Amazing situations (0:21:00)
ü Lesson 38: The power of the Knight (0:25:13)
ü Lesson 39: More on open files (0:24:28)
ü Lesson 40: Middlegames, critical moments 3 (0:23:38)
ü Lesson 41: Examples of intermediate moves (0:23:34)
ü Lesson 42: Attack and defense, Bobby Fischer's games (0:30:27)
ü Lesson 43: Susan's favorite game (0:24:09)
ü Lesson 44: Susan analyses one of her old games (0:25:33)
ü Lesson 45: Attack and defense, Susan's own game (0:24:09)
ü Lesson 46: Ideas in endgames, Petrosian (0:23:04)
ü Lesson 47: A GM's game by Akopian (0:21:55)
ü Lesson 48: Open files, illustrated by 2 games (0:22:02)
ü Lesson 49: A Susan's Game (0:22:25)
ü Lesson 50: A positional game of Alekhine (0:19:56)
ü Lesson 51: Endgames : Bishop vs Knight (0:24:53)
ü Lesson 52: Games from Lubbock Spice 2010 tournament (0:26:42)
ü Lesson 53: Tribute to Smyslov (0:22:19)
ü Lesson 54: Gambit in the Ruy Lopez (0:24:38)
ü Lesson 55: Good bishop vs Bad Bishop (0:22:53)
ü Lesson 56: Game Spassky vs Petrosian World Championship 1966 (0:21:32)
ü Lesson 57: Gruenfeld opening (0:21:19)
ü Lesson 58: Endgames : Rook vs pawns (0:23:48)
ü Lesson 59: the right calculation to find the best move (0:26:59)
ü Lesson 60: Endgames played in real games (0:27:58)
ü Lesson 61: Tactical Ideas (0:23:01)
ü Lesson 62: Outpost : 2 games by Capablanca (0:28:05)
ü Lesson 63: Attacking game from… Larry Christiansen (0:27:18)
ü Lesson 64: Suzan: my favorite opening (0:23:17)
ü Lesson 65: A long game from Kramnik (0:28:47)
ü Lesson 66: A Classical game from Anderssen -1878 (0:26:09)
ü Lesson 67: Karpov vs Sokolov (0:24:33)
ü Lesson 68: Endgames (0:25:58)
ü Lesson 69: A Susan's game - No castle for black (0:24:10)
ü Lesson 70: Najdorf's game (0:23:56)
ü Lesson 71: How to create plan (0:23:16)
ü Lesson 72: Attack and Defense (0:26:12)
ü Lesson 73: Kaidanonv vs Taimanov (0:24:21)
ü Lesson 74: Magical Tal (0:23:24)
ü Lesson 75: When to strike (0:26:44)
ü Lesson 76: Breakthrough in pawn engames (0:25:47)
ü Lesson 77: Pawn structure : doubled or isolated pawn (0:28:44)
ü Lesson 78: Positional sacrifice, game from Kasparov (0:27:48)
ü Lesson 79: Positional sacrifice, game from Kasparov (0:27:00)
ü Lesson 80: Developping before attacking (0:23:42)
ü Lesson 81: Defense (0:25:45)
ü Lesson 82: Human and Computer (0:22:49)
ü Lesson 83: Sacrifice on f7 square (0:26:01)
ü Lesson 84: Attack in Sicilian (0:24:38)
ü Lesson 85: Cut off your opponent's pieces of activity (0:24:34)
ü Lesson 86: How to respond to Black in 1. d4 Nf6 2.Nf3 c5 (0:24:23)
ü Lesson 87: How to find a plan (0:24:35)
ü Lesson 88: Space Advantage (0:26:24)
ü Lesson 89: Strategy: space advantage (0:27:23)
ü Lesson 90: Asymetrical position (0:26:52)
ü Lesson 91: Attack (0:23:47)
ü Lesson 92: Tactical Ideas from practical games (0:22:27)
ü Lesson 93: Hammer vs Anand (0:25:49)
ü Lesson 94: Analysis of a game (0:24:24)
ü Lesson 95: Carlsen vs Bacrot (0:25:07)
ü Lesson 96: Games from the Spice Spring Invitational tournament (0:27:14)
ü Lesson 97: Ideas in Evan's Gambit (0:24:55)
ü Lesson 98: instructive moment from tournaments (0:23:44)
ü Lesson 99: Games from romantic era of Chess (0:26:36)
ü Lesson 100: Exchange advantage (0:27:16)
ü Lesson 101: Endgames jewels (0:23:00)
ü Lesson 102: A super exciting position (0:26:34)
ü Lesson 103: Two GM's Game, Shirov and Kramnik (0:28:53)
ü Lesson 104: Endgames: Karpov (0:27:53)
ü Lesson 105: Ivanchuk vs Kamsky (0:27:04)
ü Lesson 106: Analysis of a game (Nimzo-Indian) (0:26:16)



Posts

: 22


Points

: 94


Reputation

: 42


Join date

: 2018-04-01



Hi,
Thansk for this. There is already a thread for this same product which I updadted only a few days ago. It would be good to keep all re-uploads of a particular product together in the same thread rather than start new ones for the same topic, as it it makes it much easier to search and find in future if they are together:
Code:

http://www.chessgod101.com/t4248-the-polgar-chess-university-mega-bundle
Thanks



Posts

: 813


Points

: 3092


Reputation

: 2226


Join date

: 2010-07-19



The bro , I am new here and will serch before upload new courses
Thanks again



Posts

: 22


Points

: 94


Reputation

: 42


Join date

: 2018-04-01





Similar topics
---
Permissions in this forum:
You
cannot
reply to topics in this forum