i can't download the dvd.. Please download and upload for me and give me the free download link for me. Thanks!

please help me find this working download link please because all my research are not working... "Chess Blitz Fever by Alexandra Kosteniuk" it's a DVD!
A Amazon Review
The introduction is followed by about eight minutes of advice on how to play blitz and eight lightly annotated games.

The eight minutes of advice was so general that her tips approached being trivial. At one point she advises with a straight face that you should always try to play the best move. Another gem includes the advice that traps may be of some value.

The eight games save this from being a one star review, but they are of limited value, since her analysis of the games is very light and proceeds at almost the same rapid pace as the games were played.

I am only a club player, so take my review with grain of salt. Your mileage may vary. I bought this dvd because I usually play slow time control games OTB, and only recently I started playing Blitz. So I was looking for some ideas that would contrast play in normal time control games with blitz and help me improve my game. I found little of value.
Last edited by festival on Wed Sep 26, 2018 9:21 pm; edited 1 time in total



Posts

: 317


Points

: 799


Reputation

: 338


Join date

: 2018-05-15




Chess Blitz Fever - Alexandra Kosteniuk
http://www.mediafire.com/download/vl...litz_Fever.rar

http://rusfolder.com/37890209
http://www.mediafire.com/?vlsnswj5d761wzb



Posts

: 499


Points

: 2253


Reputation

: 1161


Join date

: 2012-04-25



after i finished download and extract the file was not exracted successfully.. The file was not played.. Pls help me other link.. The downloa file was only 101 mb instead of 201mb.. Pls help
i have the problem with this rar.its need next volume to extract.not complete. 101mb 2nd part



Posts

: 133


Points

: 160


Reputation

: 3


Join date

: 2017-11-21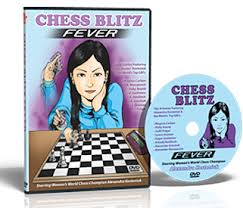 The DVD from Women's World Chess Champion and Chess Queen Alexandra Kosteniuk about Blitz Chess. Alexandra gives many tips on how to play better blitz chess and shows 8 of her sensational wins from the 2009 World Blitz Championship, where she beat World #1 Rated Magnus Carlsen, World Champion Vishy Anand, and super Grandmasters Gashimov, Aronian, Morozevich, Grischuk, Judith Polgar, and Naiditsch. All games are fully commented with simultaneous live screens and and 2D boards.

uploaded by ainojin

It is a single mp4 that has a runtime of 1 hour, 55 minutes and 28 seconds.

https://www57.zippyshare.com/v/5G1XgQUS/file.html
200.5 Mo
pw - immortal



Posts

: 499


Points

: 2253


Reputation

: 1161


Join date

: 2012-04-25






Posts

: 133


Points

: 160


Reputation

: 3


Join date

: 2017-11-21




Similar topics
---
Permissions in this forum:
You
cannot
reply to topics in this forum