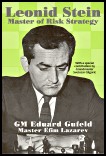 Leonid Stein - Master of Risk Strategy

https://m.vk.com/doc514041643_479940823?hash=725586bcacd41ae000&dl=bd9d514fb14f7b70ae

The name Leonid Stein is probably unknown to most of the young generation of chessplayers.Raymond Keen's book from 1976 But Stein was one of the leading figures in the chessworld from 1962 until his early death in 1973 at the age of only 38. It is not often that one can say this about a player that never played for the World Championship or even made it into the candidate matches!

But he was a great player and I loved the story about this man first time I read about it in Raymond Keens book "Stein, Master of Attack" from 1976.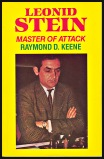 https://m.vk.com/doc514041643_479940931?hash=6f6c6c9f13ec59afc9&dl=d5bc844080092cbc72

By the way, the titles "Stein, Master of Attack" and "Leonid Stein, Master of Risk Strategy" looks very similar to me!

This book about Leonid Stein has made a long road before it could be published in this new edition from the publisher "Thinkers' Press". Both authors knew and met Stein over the board, and E. Lazarev wrote the book "Grandmaster Leonid Stein" back in 1978. In 1980 Lazarev & Gufeld published a book in Russian from the "Black" series "Outstanding Chessplayers of the World" which concentrated solely on Leonid Stein. It is this book that has been translated, rewritten, updated and corrected that is the subject of this review.



Ups & Downs for Leonid Stein
As already mentioned in the beginning, Stein never made it into the candidate tournament - but he was as close as one can get! In Stockholm 1962 he tied for sixth with Gligoric and Benko. If it hadn't been for the "rule of three" he had to play a match for the last place in the Candidate tournament. But in those days there could only be three participants from the same country, and Geller, Petrosian and Korchnoi was ahead of him. Need I say that he lost his last game?

Well in the Interzonal in Amsterdam 1964 he became fifth only half a point behind the leaders. Of course Smyslov, Spassky and Tal was ahead of him so... Finally in Sousse 1967 he tide for sixth place and had to play a match against Hort and Reshevsky to determine the last place! All of the players scored 4/8 and Reshevsky "won" the play-off because he had the best Sonnen-Berger scores from the Sousse tournament. I have to mention that Reshevsky drew all eight games and that Stein lost his last game!
Despite these "failures" Stein was a leading master in this period winning the USSR-Championship in 1963, 1965 and 1966. He also won a lot of other tournaments, one only have to mention two of the strongest that was played at that time: Moscow 1967 and Moscow 1971.

Leonid Stein & Botvinnik

Stein and ex-world champion Botvinnik, 1970 (Photograph from the book)

Well this is only some of the things that you can read about in the book, but I wont reveal all of the content ;-) Well there is the story about Fischer and Stein playing blitz and....



A typical game
Leonid Stein did not always play "correct" chess, and the game below is a typical game from him. The notes is taken from the book, although I didn't give all the notes here. You have to buy the book if you want more!!
Damjanovic - Stein
Capablanca Memorial, Havana 1968

1.e4 c5 2.Nf3 Nc6 3.d4 cxd4 4.Nxd4 Nf6 5.Nc3 d6 6.Bg5 Bd7 7.f4 Rc8 8.Nb3 a5 9.Bb5 Ng4?
We recall one of Stein's semijocular utterances: "Now the Sicilian for Black experiences a crisis: If you risk, you may get mate, if you do not risk, at best, you will wind up in an endgame without a pawn, it's better to take the risk!"
10.h3 Ne3 11.Qe2 Nb4 12.Bd3 h6 13.Bh4 g5

14.fxg5
...Grandmaster Ivkov recommended the solid Bg3!, maintaining a durable opening edge.
14...hxg5 15.Bxg5 Ng4!
The black Knight returned from the dangerous raid safe and sound having received the e5-stronghold as a reward. White was facing a lot of problems, the principal one being: where to "locate" the King?.....In grandmaster Holmov's opinion 16.0-0! was better and it would have been challenging for black to prove the correctness of his sacrifice.
16.Bb5? Nxc2+! 17.Qxc2 Bxb5 18.Nd4 Bd7 19.Qd2 Bg7 20.Nd5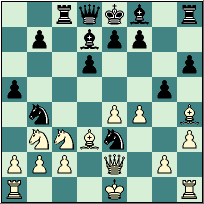 20...Rc4! 21.Bxe7 Qxe7! 22.Nxe7 Rxd4 23.Qxd4 Bxd4 24.Nd5 Nf2 25.Rf1 Nxe4 26.0-0-0
Finally, the white King reached a relatively safe place. But, Black had already accumulated a sufficient advantage to win the

26...Be5 27.Rfe1 f5 28.Rd3 Kf7 29.g4 Nf2 30.Rf3 Nxh3 31.Nb6 Bf4+ 32.Kb1 Be6 0-1







Final remarks
The two authors has made a book that I only can recommend to all chesslovers. The first 91 pages of the book contains the life of Leonid Stein, and the last 150 pages is a collection of his best games. A clear plus for the first part is the photos that also include some rare family photos. At the end of the book you can see a list of Leonid Stein's most important tournament and match results. This is normal for a book like this one, but I would have preferred that the authors had followed the example of Raymond Keene also giving the cross-tables of the most important tournaments.

Leonid Stein & Fischer, Havanna 1966



Posts

: 661


Points

: 3864


Reputation

: 2496


Join date

: 2012-04-25




Leonid Stein

https://m.vk.com/doc514041643_479940732?hash=bc2b12b960c24f345f&dl=b8accbd14476fb95a2 PDF

https://m.vk.com/doc514041643_479940687?hash=a94eddc0d931973bb6&dl=10d2132e51b09025c4 CBH

 was a three-time Soviet Chess Champion and one of the World's strongest players during his career, which was tragically cut short at its peak by his premature death in 1973. Stein was a fierce competitor who defeated virtually all of his closest rivals and enjoyed excellent results even against World Champions. Stein possessed a unique creative attacking style, and his legacy includes a number of wonderful attacking games. In this book, International Master Thomas Engqvist invites readers to join him in a study of his favourite Stein games, and shows how we can all improve by learning from Stein's masterpieces.

Move by Move provides an ideal platform to study chess. By continually challenging the reader to answer probing questions throughout the book, the Move by Move format greatly encourages the learning and practising of vital skills just as much as the traditional assimilation of knowledge. Carefully selected questions and answers are designed to keep you actively involved and allow you to monitor your progress as you learn. This is an excellent way to improve your chess skills and knowledge.



Posts

: 661


Points

: 3864


Reputation

: 2496


Join date

: 2012-04-25



jiri wrote:

[b]

Leonid Stein - Master of Risk Strategy
thank you very much!



Posts

: 214


Points

: 248


Reputation

: 34


Join date

: 2018-10-02



jiri wrote:
thanks again!



Posts

: 214


Points

: 248


Reputation

: 34


Join date

: 2018-10-02




---
Permissions in this forum:
You
cannot
reply to topics in this forum