The program Swiss-Manager is an administration- and pairing program for chess-tournaments (round robin, team-round robin, swiss-system, team swiss-system tournaments).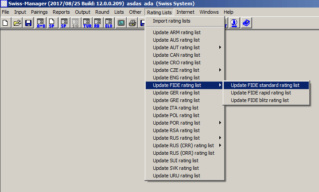 SwissManager 14.05.2018, Build 13.0.0.57 + Patch
http://rgho.st/6yfKMqrFm
Patch of Jiri of immortal chess forum. ( only )
Pw : immortal

An overview of important functions: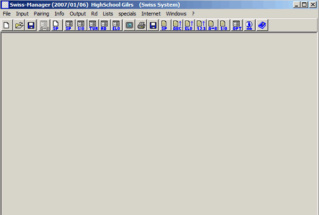 Fide approved
Simple handling
Languages: Arabic / Armenian / Croatian / Czech / English / French / German / Greek / Hebrew / Hungarian / Indonesian / Italian / Lithuanian / Persian / Polish / Portuguese / Romanian / Russian / Serbian / Slovak / Slovenian / Spanish / Turkish / Vietnamese
Swiss system: up to 1.500 participants and 23 rounds.
Round robins: up to 150 rounds
Team round robins: up to 1.500 participants up to 50 teams.
Team-Swiss system: up to 1.500 participants up to 300 teams and 23 rounds.
Supports Unicode (i.e. Japanese)
Simple player input with Fide-ratinglist and national rating list.
Rapid and reliable pairing (mostly only few seconds).
Processing simultaneous several tournaments.
Convenient and rapid result input.
Information, lists of all rounds can outputed any time.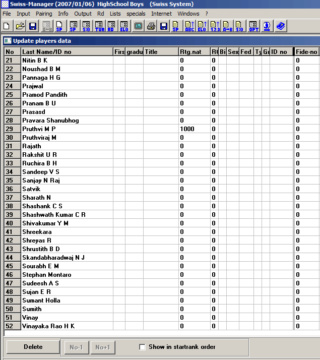 Output of all lists on screen, printer or text-, HTML- or Excel-file.
In addition to the normal possibilities as tournament data input and change, player data input and change, results input and change, print lists, player exclude and so forth there are special functions: Enter player after the first round, continue player after exclusions, set pairings by hand, set the bye by hand.
Successful program application since 1986 during big national and international chess events.
Estimated 200.000 tournaments were handled successfully. About 100.000 tournaments are online available in the
Tournament-database of chess-results!
References: Customers from more than 110 federations..
Simple publishing of tournaments at the international chess-tournament-result-server: http://chess-results.com, a very fast and reliable platform free to use for all chessfriends.
Operating system Windows XP and newer.
Regular program- and rating-lists update.
Reduced price from 1.1.2012
150 Euro for the full version
75 Euro for the light version (Swiss System up to 60 participants / 11 rounds, round robin analogy with full version, team-round robin up to 6 teams)You are obviously, ungrateful,
The immortal chess forum and Chessgod101

Nothing is ever acquired, and above all you have no merit to receive,
Jiri
Bye



Posts

: 661


Points

: 3958


Reputation

: 2590


Join date

: 2012-04-25






Posts

: 66


Points

: 109


Reputation

: 33


Join date

: 2018-09-18



Upload to other site pls. Thx



Posts

: 101


Points

: 56


Reputation

: -93


Join date

: 2016-10-26


Age

: 33


Location

: Medan



iasni wrote:Upload to other site pls. Thx
Another link:-
https://dropmefiles .com/pCKq3   (remove the space)
Password-master jiri
All credit to jiri the master!!!!!!!!!



Posts

: 13


Points

: 40


Reputation

: 23


Join date

: 2018-11-11



Please upload it again, the link has been removed. Thanks in advance



Posts

: 20


Points

: 20


Reputation

: -2


Join date

: 2018-04-14





Similar topics
---
Permissions in this forum:
You
cannot
reply to topics in this forum