Punishing Positional Mistakes Part 3 by Arne Jochens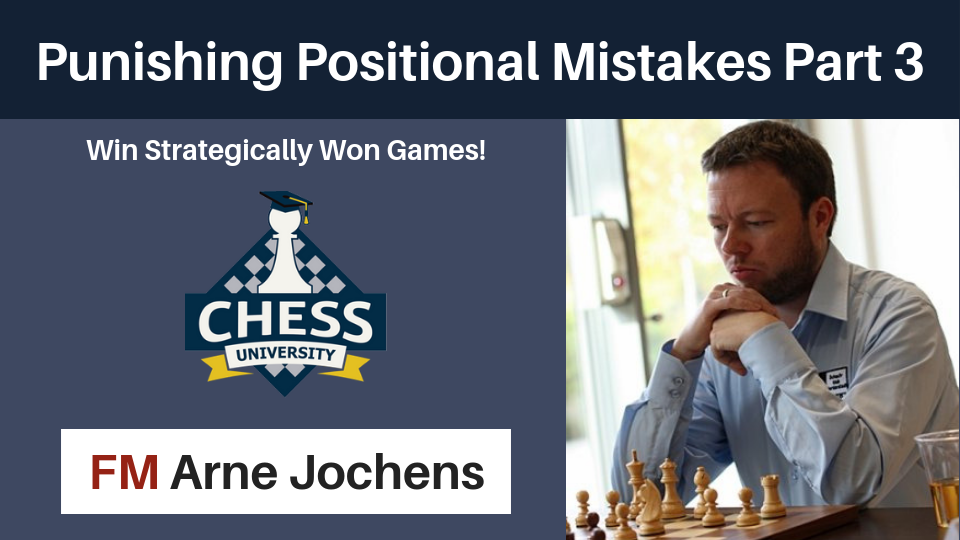 FM Arne Jochens presents the third and final installment in his series on punishing positional mistakes! After receiving great feedback on his second seminar about punishing positional mistakes, Arne decided to make a third installment which focuses more on winning games which are 'strategically won.' This recorded live seminar was taught in October 2018.
Title: Punishing Positional Mistakes Part 3: Winning The Positionally Won Game
Tuition: $18
Level: 1500-2000 Elo
This 115-minute class focuses on converting strategically won positions for the full point. Learning the correct mental framework and approach to winning positions will enable students to avoid making mistakes in their own games and fully capitalize on their opponents' mistakes.
The examples shown will also be used to extract some general rules about positional play. Students are then given the chance to immediately apply this knowledge in some carefully selected training positions. FM Jochens fields questions from viewers in the very last segment of the course.
---
Two different sizes, one small (181 MB) and one in HD format (750 MB )
Also have a streaming link in HD for those who don't want to download.
Live streaming link: https://fast.wistia.net/embed/iframe/0nmxdk1a9r
HD link (live for 21 days):  https://filetransfer.io/data-package/KtZe304U
SD link: https://www62.zippyshare.com/v/412GpxOO/file.html
BIN download (MP4 format) for anyone who wants to download the movie directly. Also acts as a permanent HD mirror: http://embed.wistia.com/deliveries/39c416388255c31ae0e97964724c637afd3e2da2.bin
PGN: https://www49.zippyshare.com/v/bXyn81EN/file.html



Posts

: 78


Points

: 263


Reputation

: 155


Join date

: 2018-09-18



NorwayChess wrote:

Punishing Positional Mistakes Part 3 by Arne Jochens

FM Arne Jochens presents the third and final installment in his series on punishing positional mistakes! After receiving great feedback on his second seminar about punishing positional mistakes, Arne decided to make a third installment which focuses more on winning games which are 'strategically won.' This recorded live seminar was taught in October 2018.

Title: Punishing Positional Mistakes Part 3: Winning The Positionally Won Game

Tuition: $18

Level: 1500-2000 Elo

This 115-minute class focuses on converting strategically won positions for the full point. Learning the correct mental framework and approach to winning positions will enable students to avoid making mistakes in their own games and fully capitalize on their opponents' mistakes.

The examples shown will also be used to extract some general rules about positional play. Students are then given the chance to immediately apply this knowledge in some carefully selected training positions. FM Jochens fields questions from viewers in the very last segment of the course.

---

Two different sizes, one small (181 MB) and one in HD format (750 MB )

Also have a streaming link in HD for those who don't want to download.

Live streaming link: https://fast.wistia.net/embed/iframe/0nmxdk1a9r

HD link (live for 21 days):  https://filetransfer.io/data-package/KtZe304U

SD link: https://www62.zippyshare.com/v/412GpxOO/file.html

BIN download (MP4 format) for anyone who wants to download the movie directly. Also acts as a permanent HD mirror: http://embed.wistia.com/deliveries/39c416388255c31ae0e97964724c637afd3e2da2.bin

PGN: https://www49.zippyshare.com/v/bXyn81EN/file.html
1 Million thanks to norwaychess for great work




Posts

: 21


Points

: 33


Reputation

: 14


Join date

: 2018-12-29



NorwayChess wrote:

Punishing Positional Mistakes Part 3 by Arne Jochens

FM Arne Jochens presents the third and final installment in his series on punishing positional mistakes! After receiving great feedback on his second seminar about punishing positional mistakes, Arne decided to make a third installment which focuses more on winning games which are 'strategically won.' This recorded live seminar was taught in October 2018.

Title: Punishing Positional Mistakes Part 3: Winning The Positionally Won Game

Tuition: $18

Level: 1500-2000 Elo

This 115-minute class focuses on converting strategically won positions for the full point. Learning the correct mental framework and approach to winning positions will enable students to avoid making mistakes in their own games and fully capitalize on their opponents' mistakes.

The examples shown will also be used to extract some general rules about positional play. Students are then given the chance to immediately apply this knowledge in some carefully selected training positions. FM Jochens fields questions from viewers in the very last segment of the course.

---

Two different sizes, one small (181 MB) and one in HD format (750 MB )

Also have a streaming link in HD for those who don't want to download.

Live streaming link: https://fast.wistia.net/embed/iframe/0nmxdk1a9r

HD link (live for 21 days):  https://filetransfer.io/data-package/KtZe304U

SD link: https://www62.zippyshare.com/v/412GpxOO/file.html

BIN download (MP4 format) for anyone who wants to download the movie directly. Also acts as a permanent HD mirror: http://embed.wistia.com/deliveries/39c416388255c31ae0e97964724c637afd3e2da2.bin

PGN: https://www49.zippyshare.com/v/bXyn81EN/file.html




Posts

: 76


Points

: 65


Reputation

: 7


Join date

: 2018-12-18





Similar topics
---
Permissions in this forum:
You
cannot
reply to topics in this forum